Jane Thompson has used her design skills to make the best use of space in her art-filled home. Sharon Dale reports.
Her parent's love of art and design has had a profound effect on Jane Thompson's life and on her home. The walls of her house in North Leeds are full of paintings and prints, many of which she inherited from her mother and father. They had a fantastic eye for spotting talent and embraced work by contemporary artists and makers. Every one of the pictures tells a story, and many bring back happy memories of Jane's childhood. "I feel very lucky that I grew up in a house full of art and that I was taken to galleries and exposed to culture from a young age.
"My parents were also very creative with interiors. Our house was always a bit different," says Jane, who is an interior stylist.
Hanging her pictures was the finishing touch to a project to reclaim, redecorate and extend her property. The house, a four-storey terrace, was chosen for its prime location and sits on a quiet cul-de-sac.
"It had a really nice feel and when I walked in it smiled at me and that's why I bought it," says Jane. "The only aspect I didn't like was the tiny galley kitchen."
The kitchen was on the ground floor next to a small sitting room and she came up with a radical plan to move it to the cellar. this required a full basement conversion at considerable expense but after a cost-benefit analysis, Jane decided to go ahead. "I knew it would be expensive because the cellar was two dark and damp rooms so it required a lot of work but I also knew that it would add value to the house and that it would improve my quality of life," she says.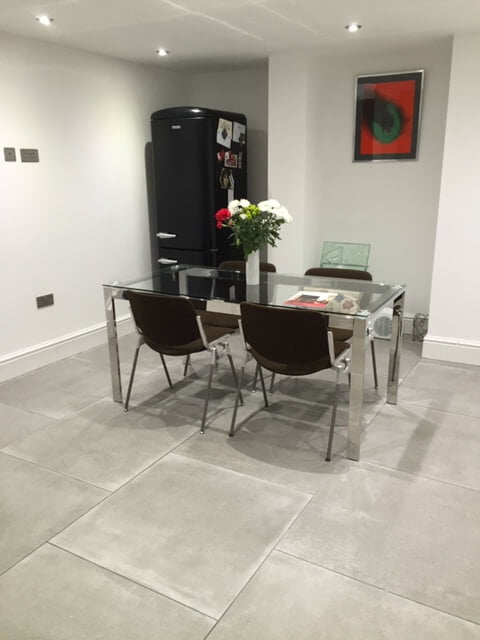 'This kitchen has totally changed my life. I love entertaining," she says. "Doing the kitchen and making other improvements to the house has paid off by adding value, though that wasn't my main motivation."
She specified underfloor heating in the basement because she didn't want radiators but it also mitigates any fustiness. The kitchen cabinets are from Howarth Timber and Jane has nothing but praise for the company. Her only compromise was the floor. She wanted concrete but getting the mixer and other equipment down the steps was impractical so she opted for porcelain tiles.
As for the decor, she says: "Everything is white and unfussy so the emphasis is on the art and my knick-knacks."
The framed Picasso print scarf, which looks like a painting, is the most striking piece, along with a collection of Majorcan pottery and crystal decanters that belonged to her parents and her aunt. The dining table was a bargain buy from Ikea and the chairs are vintage. With the kitchen moved downstairs, the sitting room is large enough to take a big sofa and a Chesterfield chair, along with a wooden chest she bought in Camden. Pride of place on the wall above the sofa is a painting by Jane's niece, Lillie Bernie, and there is also artwork by her father, who sculpted as a hobby.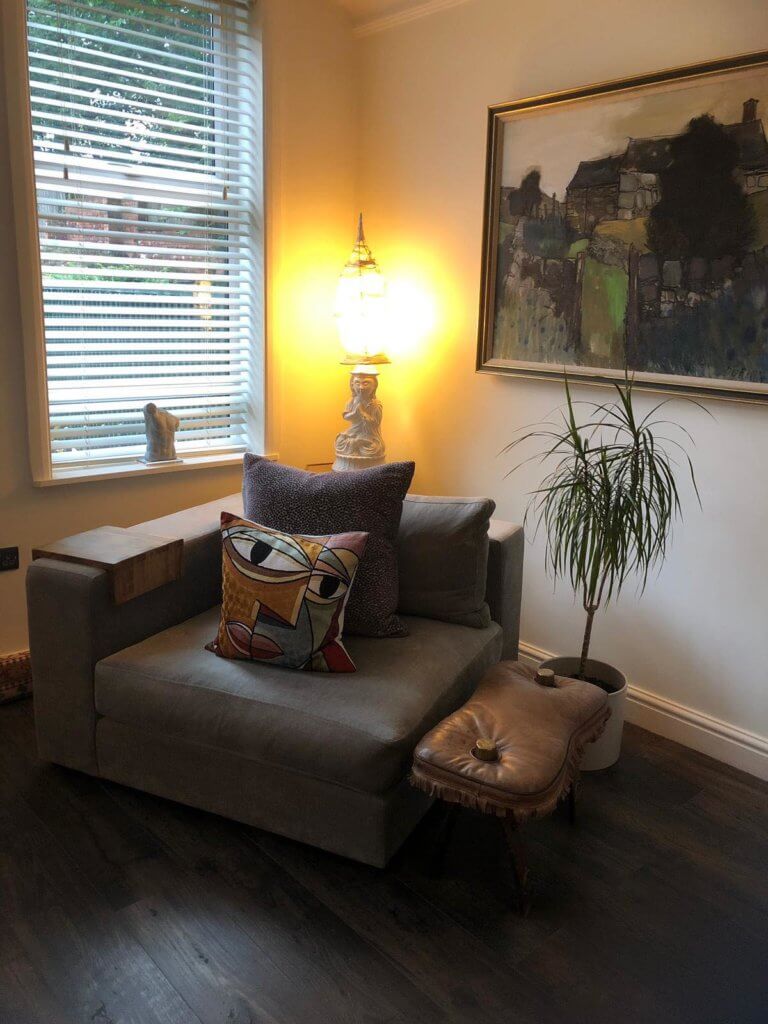 On the first floor, there's the master bedroom and bathroom. The main bedroom has built-in furniture by Sharps and the green velvet headboard is bespoke from Beds of Oakwood. The silver chair brings back happy memories of her time in London as she bought it in Camden. The blinds are in a Sanderson print and the cushions are from Homesense.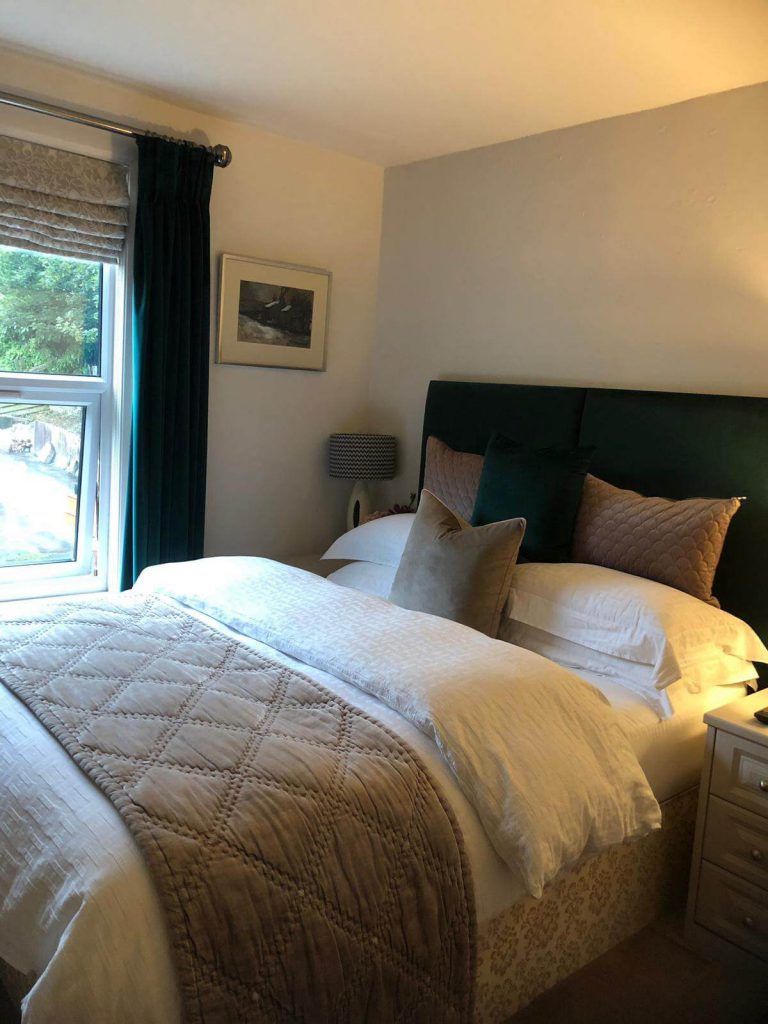 "I like Homesense for soft furnishings and accessories. They so great, inexpensive cushions," says Jane, who decorated the wall with one of her favourite paintings, a picture by Tom Durkin that belonged to her aunt.
The top floor room is multi-functional and works as an office and a guest bedroom. It also features a wall of fitted wardrobes, which is great for storage. Her house is now a showcase for her interior design business, which she launched recently after a career that has included producing conferences and live events, silver-smithing, tapestry design, and furniture renovation.
"Work has always involved doing something creative. I've enjoyed all the jobs I've done over the years but interior design is what really suits me best," says Jane.
Her clients range from those who want to refresh their decor to people who circumstances have changed and find themselves living alone and are wanting assistance in finding a style that suits them. "Creating a place on their own is all part of the healing process," says Jane, who adds: "I rarely start from scratch as I encourage people to keep the things they love and that mean something to them. I call them memory pieces and they are really important in making a house feel like a home."
She practices what she preaches in her own picture-perfect house, though admits that it may not be a forever home.
Useful Contacts:
Lillie Bernie – Artists
www.lilliebernie.com
Howarth Timber – Kitchens
www.howarth-timber.co.uk
Floorstore, Leeds – Carpets
www.floorstoreonline.co.uk
Sharps – Built-in bedroom furniture
www.sharps.co.uk
Beds of Oakwood – Bespoke headboard
www.bespokebedsofoakwood.co.uk